Insignia B-9583
We are sorry, but there are no replacement products currently available for Insignia B-9583. Please contact for more advice.
You may also be interested in:
B-9583 Battery

Camera Battery 3.7V 1150mAh

Fits Fujifilm FinePix 50i, 601, F401, F410, F601, M603; Olympus Camedia AZ-1, AZ-2, Ferrari Digital 2004; Sony Mylo COM-1, COM-2; Panasonic SV-AS3, SV-AV10, SV-AV100, SV-AV20, SV-AV25, SV-AV30, SV-AV35, SV-PT1

Replaces Fujifilm NP-60; Olympus LI-20; Panasonic CGA-S301, CGA-S302

1150 mAh Capacity
Lithium ion Chemistry of battery
3 Years Warranty
Specification
Description
Technical specifications

Quick search number:

F8VKPQ

Warranty:

3 Years

Function battery performs:

Digital Camera , Power battery for digital cameras

Chemistry of battery:

Lithium ion , Newer type of rechargable, giving best performance for a rechargable.

Voltage:

3.7 V

Capacity:

1150 mAh

Watt hours:

4 Wh

Weight:

29 g

Dimensions:

53 mm x 35 mm x 7 mm

Charger Battery Ports:

0

Duracell camera and camcorder batteries deliver equivalent performance to the manufacturers original and are supplied with a 3 year limited warranty.

Genuine Duracell product

Brand Name: Duracell branded product.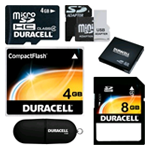 Duracell Memory cards are available in SDHC, SDXC, and MicroSD with storage capacities ranging from 8Gb to 128GB and suitable for various types of photography on conventional Digital Cameras , Camcorders and Smartphones .
Duracell Memory Cards range from standard Class 4 through to professional Class 10 UHS-3 for cinema quality HD Video.
Our range of MicroSD cards are great for capturing photos on your Smartphone, Our SD Adapter Kit microSD cards include an adapter allowing the small MicroSD card to be used in any device with a SD card slot. Great for transferring photos from device to device easily.
In our dedicated Memory Card section we also offer an extensive range of USB 2.0 and USB 3.0 Pen Drives for data storage for your desktop, laptop or ultrabook PC.
Please select the memory card type which is suitable for use in your device.
At Duracell Direct we are proud to offer our customers a choice of Duracell laptop accessories alongside Original Brand parts where available. In some instances we may also offer a compatible solution from carefully selected brands such as 2-Power to compliment our range or to cover models that Duracell do not currently cover. 2-Power products are tested to the highest standards and manufactured using high quality components to deliver outstanding performance. Everything you'd expect from Duracell Direct.